The Mindfulness Series
Module 2: Working with Thoughts and Feelings
The Mindfulness Series is made up of a number of 4 week courses that each address a particular aspect of mindfulness meditation. Series courses may be taken either in sequence or on their own. This is the second course in the Series.
TUESDAY MORNINGS, 10:00 AM – 11:30 AM Eastern Time
NOVEMBER 2 – NOVEMBER 23
The biggest challenge in meditation practice is thinking. A busy mind is uncomfortable and even stressful. Most people believe the idea is to get rid of thoughts. But this just sets up a struggle which is the opposite of what we're looking for. By learning to relax with what is here in the present moment, including thoughts and uncomfortable feelings, we discover a deeper resource within ourselves of spaciousness and clarity. When that happens, we find a sense of peace and freedom that is always possible.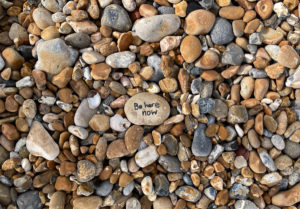 In the Mindfulness Series, you'll learn about mindfulness as well as practice it with encouragement in how to establish a personal meditation routine. Daily practice gently trains our mind and body in greater peace and simplicity which lowers stress and brings increased clarity and general well-being.
Mindfulness Meditation is a simple technique – but learning how to do it right is not necessarily easy. Most people learn it better by participating in a weekly class with the personal attention of a live instructor. This daytime course is especially geared for busy people. So set aside 90 minutes each Thursday and join Kristin in this rewarding practice!
Each weekly meeting includes guided meditation, talks, and discussion. The class format is set up to provide opportunity for personal guidance and for sharing experiences with others in the class. This course is an excellent choice for newer meditators or those who want to reinforce their understanding and experience by weekly meetings in a group.
The Package Option: Combine the 4 week course with a mindfulness mini-retreat "Finding Calm in the Chaos" on Sunday November 7th. In the mini-retreat you'll spend the morning being guided through a series of mindfulness meditations. This is one of the very best ways to review and integrate what you have learned in classes.
4 Week Online Course
1. Regular Price: $99.
(Early Bird Discount. Only $85 if registered by October 19.)
2. College/Grad Student Price: $49.
3. Recordings Only: $39.
You will be asked to select an option when you sign up.
If you are experiencing financial difficulties during this crisis, we are offering Generosity Support. Please don't hesitate to contact us so that we can help. info@clearlightmeditation.org
A link to the audio recordings for this course will be emailed to all registered participants during the first week of the course.
I think ClearLight offers a solid, expert foundation upon which to explore mindfulness.
– Stacey Mandel
These meditation classes combined with my own practice have been life-changing for me. I'm more at home in my own skin, my relationships have improved, and in general I'm more content.
– K.D.
This class profoundly impacted my ability to deal with daily anxiety and have a calmer mindset overall. The instructor was incredible.
– Past Course Participant