TUESDAY EVENINGS, 7:00 PM – 9:00 PM EDT
SEPTEMBER 21 – NOVEMBER 23
OR
THURSDAY MORNINGS, 9:30 AM – 11:30 AM EDT
SEPTEMBER 23 – NOVEMBER 25 (last class via recording)
'Spontaneous Awakening' is our most advanced course series. It is an ongoing, experiential group process for people with a passion for awakening and living the truth of non-dual reality.  Our exploration and practice is guided and inspired by non-dual Wisdom teachings such as Mahamudra, Dzogchen, Vajrayana, Zen, and Advaita Vedanta, and is informed by modern Western psychological and neuro-scientific insights into the process of awakening.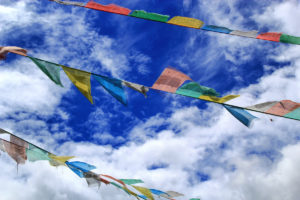 The wisdom teachings of Tibet describe the 'natural state' of human existence as enlightenment itself – a totally clear, pristine, sensitive, blissful, loving, unified field of awareness.  The heart of Tibetan Mahamudra and Dzogchen meditation is to recognize this natural state, become stable in it, and finally live our life within and as this continuous awakening.
The prime focus of the Spontaneous Awakening group is to clarify recognition of the natural state.  This means to eliminate doubts and obstacles that obscure it.
But recognizing the natural state is only the beginning of genuine awakening.  The next step is to become stable in this open-hearted awake awareness.
This is the main part of this pathless path which is usually years in the unfolding.  It requires a refined balance of constant diligence and effortless letting go.  It also involves inquiry into all the ideas, beliefs, emotions, identities, and blockages that cause us to fall out of recognition of the true nature.
Meetings will include periods of formal and informal meditation, teachings, awakened sharing, and discussion. Participants learn to speak and share experience from within natural awakened awareness, creating the bonds of true sangha.  Sometimes there will be background reading from great scriptures and teachings to lend a structure to our meetings, and sometimes we will simply explore reality as it is without reference to such a structure.  Each meeting is a shared immersion in our innermost essence, awareness-intelligence-love.  The regular group meetings provide a strong support for stabilizing and embodying this natural, awakened, ground of Being and expressing it in the world.
Pre-requisites to attend:  To participate in this group you must have permission from the instructor.  If you are interested in inquiring, general guidelines are as follows: You have a regular daily meditation practice (minimum 30-45 minutes) of several years.  You have enough meditation experience to easily settle and remain in the present for most of your meditation session and are practicing self-awareness throughout your day.  You have developed enough love and compassion for yourself that you can be present with the difficult feelings that come up when doing serious work on yourself.  You have familiarity with the Wisdom traditions of the East (i.e. Buddhism, Advaita Vedanta etc.)  You have participated in several multi-day meditation retreats.  If you are new to Awakening, we recommend our Glimpses Level courses first. For further questions, please contact us.
10 Week Online Course only
1. EarlyBird Price: $225 (If registered by September 10)
2. Standard Price: $239
3. College/Grad Student Price: $119
4. Patron Price: $249
Package: Course plus Live Online Retreat
'Spontaneous Awakening Retreat' on Saturday November 20
5. Early Bird Price: $299 (If registered by September 10)
6. Standard Package Price: $309
7. College/Grad Student: $159
8. Patron Price: $329
Audio Recordings
9. 10 Recordings Only: $125
10. 10 Recordings plus Retreat: $199
You will be asked to select an option when you sign up.
If you are experiencing financial difficulties during this crisis, we are offering Generosity Support. Please don't hesitate to contact us so that we can help. info@clearlightmeditation.org
A link to the audio recordings for this course will be emailed to all registered participants during the first week of the course.
Powerhouse lessons on Awakening delivered with a velvet light touch!
– A.S. Psychologist
ClearLight classes are the most important spiritual practice I have. The emphasis is on inquiry into the deepest aspects of our being. The interaction is amazing and has helped me learn to really listen to others as well as myself.
– D.R.J. Retired
I highly recommend to others that they experience for themselves how unique and special ClearLight is for taking meditation practice to another level.
– V. Fisher, Paraprofessional