Abiding in the Stillness, Silence & Spaciousness of Awareness
A Self-Study Course for meditators interested in the direct approach of awakening
This Fall Self-Study Course is Available September 13 Through December 31. You may sign up anytime during this period to receive access to recordings for 10 weeks of classes.
The practice of meditation shows us there is no experience to seek beyond the one we are having right now. We can give up struggling, and allow ourselves to feel the relief of just letting be, letting go into the continuous experience of Now. When we do, thoughts slow down, and we discover more space in our mind.  The usually unnoticed background of stillness, silence, and spaciousness begins to come into the foreground of our heightened awareness.  The wisdom sayings "There's nothing to get," and "The peace you are seeking is already within you," start to make sense.  The way forward is learning to abide in the stillness, silence, and spaciousness of awareness.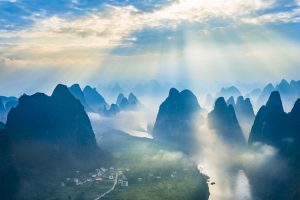 What is it that abides?  What is this spacious awareness? This inquiry points us to discover where true, lasting, inner peace and happiness can be found. 
This course is for experienced meditators who are interested in the non-dual approach of direct awakening and is an introduction to our Glimpses level. The style of meditation is different than the deliberate approach of mindfulness, but the course assumes you have a strong personal practice of silent meditation.
Course Elements
Recordings: "Abiding in the Stillness, Silence & Spaciousness of Awareness" with Scott McBride. This 10-week series of classes is a profound journey into awakening presented in an easy and accessible style.
A link to the audio recordings for this course will be emailed to all registered participants during the first week of the course.
I think ClearLight offers a solid, expert foundation upon which to explore mindfulness.
– Stacey Mandel
These meditation classes combined with my own practice have been life-changing for me. I'm more at home in my own skin, my relationships have improved, and in general I'm more content.
– K.D.
This class profoundly impacted my ability to deal with daily anxiety and have a calmer mindset overall. The instructor was incredible.
– Past Course Participant