Winter Residential Awakening Retreat
Non-Dual Awareness and the Body
5 PM WEDNESDAY THROUGH MIDDAY ON SUNDAY
JANUARY 15-19, 2020
The progressive path of mindfulness, when practiced consistently for many years, can introduce us to the non-dual awareness that is the essence of the Buddha's enlightenment. This is the traditional mindfulness practice that is widely taught.
In sharp contrast, the direct path of Awakening which is not widely taught, begins with glimpsing this non-dual awareness and recognizing it as our innate, already enlightened nature. The Awakening process continues by simply learning to let go and rest in that already awake awareness. It is 'direct' in the sense that it goes directly to the goal.
This is a Direct Awakening retreat, NOT a traditional mindfulness retreat. It is for advanced meditators.
What is Awakening?
Awakening is the discovery of our deepest nature and highest potential. Authentic awakening brings about the end of all seeking. When you awaken, you awaken out of the trance of the limited self that is always seeking happiness elsewhere. You awaken into the discovery that the very peace, love, happiness, and freedom you have been seeking are already here now as the essence of who you are. Even a brief glimpse of your essential Being can catalyze a profound shift in your experience. Rather than needing to cultivate intentional mindfulness, you experience your own awareness as effortlessly mindful, ever present, and already awake.
Direct Awakening is initiated when our everyday awareness recognizes or "wakes up" to its own nature – clear, open, formless, boundless, content-less and timeless. When awareness recognizes itself, we call it Awake Awareness. Once initial recognition occurs, the habitual, contracted 'small self' begins to relax and gradually let go into this clear, loving consciousness, your true nature. As habitual mind surrenders, your essential Being unfolds all by itself, bringing forth an abundance of well-being, wholeness, joy, and connectedness with all of life.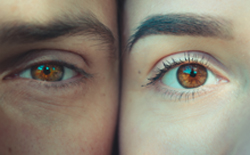 Non-Dual Awareness
The very essence of Awakening is realizing the non-dual nature of awareness. Although we are strongly conditioned to believe "I am separate from everything else", when we examine our experience closely with the eye of meditative investigation, we cannot find an actual boundary dividing awareness. There is no inside or outside to awareness. It is one open unified field. Within the perspective of awareness itself, there is no 'subject' to be found separate from the 'objects' of perception: they are "not two". Non-dual awareness is the experience of being in intimate non-separateness with everything else.
The Topic for this Retreat: Non-Dual Awareness and the Body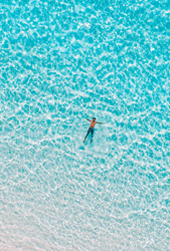 In this retreat, for five days we will let go into the boundless loving awareness that is our True Self taking a deep dive into the body to rediscover what it means to be embodied. How can the body be a doorway to awakening non-dual awareness? And, how is the body experienced from the perspective of non-dual awareness? Through direct experiential inquiry we will deepen our stability in Awake Awareness and simultaneously explore the body from different perspectives:
Deep relaxation and letting go in the body as a support for awakening non-dual awareness
Breath and life force flowing through the body: a river emptying into the boundless ocean
Stillness within movement: the heart of the Tao
Awakened movement synchronizing body, breath and mind
The body and the felt sense of interconnectedness with all of life
The body as energy and the many layers of energy in the body
The body IS awareness
The holographic body: Our Awareness-body of simultaneous form-emptiness
Blockages to freedom in the Body
Our Emotional body and its effect on the physical and energetic bodies
Our Mental body and the Non-Conceptual Body
Centers of Awake Presence in the Body
Awakening Bliss: the flow that is self-sustaining
The disappearance of the body in timeless awareness
Self-Compassion, love, and allowing the body as it is
Receiving Awakened light, love and healing through the body
The whole world is my body
We will practice sitting, lying, standing, walking and moving meditations as ways to awaken, sustain, and deepen our experience of non-dual, open hearted Awake Awareness.
The Power of Retreat
The power of retreat lies in the charged atmosphere of sustained group practice, our mutual authenticity, our willingness, and the fact that Awakening can be shared. You will be guided towards continuous recognition and sustained experience of your most essential Being, which is eternally awake. For those who have already recognized Awake Awareness, retreat practice increases meditative stability, deepens insight, brings forth beneficial qualities, and dissolves the boundary between meditation and daily life.
This program is for advanced meditators. What do we mean by advanced meditators? 'Advanced' doesn't necessarily correlate with how long you have been meditating. But generally speaking, it means you have several years of a committed daily silent meditation practice and are accustomed to meditating without guidance for sessions of 45 minutes or longer. It means you have participated in several intensive meditation retreats, and your training may have been in one or more of the following meditation styles: vipassana, shamatha/vipashyana, zazen, shikantaza, Mahamudra, Dzogchen, Tibetan sadhana, or the Indian non-dual schools such as Advaita. In terms of ClearLight's 'Levels,' these retreats are oriented to those in Glimpses or Awakening.
If you have been meditating for years but find that you have plateaued, or that deep insight evades you, or you want to clarify your experience of Awake Awareness, you can benefit from this retreat.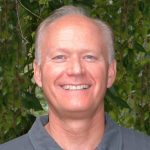 Your guide is Scott McBride, a highly trained teacher praised for his abilities to impart instructions in a clear, compassionate, practical way. The teachings are non-denominational and draw primarily from Buddhism and other non-dual wisdom traditions of the East and West as well as from modern contemporary psychology and neuroscience. During the retreat Scott will also do healing meditations that can help remove obstacles and accelerate your journey.
Comments from Previous Retreats
"I am so very grateful for the experience of the recent retreat you led. I've had other retreat experiences for comparison and this one is exemplary. You provided an atmosphere of safety and respect for all participants, which I've learned is essential to the intimate work that occurs in silence and in sharing with others. Your commitment to teaching others is filled with integrity and loving intention, clearly drawn from the power of your own personal awakening." J.F.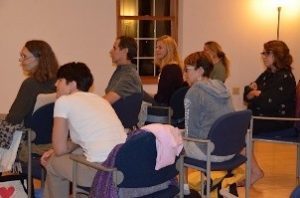 "This retreat was excellent. I appreciated the guidance, exercises, discussions, time for practice, and the care and compassion in helping us awaken in a loving way. I absolutely value the teachings on awakening and open heartedness. Best retreats ever!" M.F.
"The group we had was phenomenal. The atmosphere seemed super charged and that was extremely supportive. I truly felt my progression towards more awakening and was so excited almost every sitting to really look deeply and feel my true nature. It felt like food for my soul." K.D.
Retreat Format
Retreat includes periods of guided and silent meditation, individual and group inquiry, walking meditation, talks, discussion, awareness exercises, group healings, nature walks and optional morning yoga. After the first day, the retreat will take place in silence (except during the instruction and discussion sessions). The practice of silence is one of the most enjoyable and rewarding aspects of the retreat. Silence nurtures meditative experience, refreshes the spirit, and provides a mirror for seeing our minds more clearly. The retreat begins Wednesday evening with check-in at 5:00 pm followed by orientation, a welcoming meal, and the evening program. We'll conclude late Sunday afternoon.
Location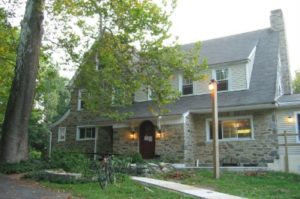 The retreat takes place in Brinton House at Pendle Hill in Wallingford, Pennsylvania. Pendle Hill is a Quaker study, retreat, and conference center located in a beautiful, natural and peaceful setting in the western suburbs of Philadelphia. It is a place dedicated to peace, justice and personal transformation. The Pendle Hill community offers us a charming residential facility with meeting hall and community area, delicious healthy food, and a caring professional staff. Seating is mostly in chairs, but some cushions will be available.
Program Fees and Accommodations
Costs for the retreat include the program tuition plus facilities, accommodations, meals, beverages and snacks. There are three registration options: Residential with Single Accommodations, Residential with Shared Accommodations, and Commuter. Space in this retreat is limited and it is a very popular event. Room assignments will be on a first come, first served basis. Please register early to secure your place and take advantage of our Early Bird Discount!
Partial scholarships are available for those with financial need. To request a scholarship, please contact info@clearlightmeditation.org.
Residential (Single): $949
Includes tuition, 4 overnights – single accommodations, all meals, beverages and snacks.
Residential (Shared): $869
Includes tuition, 4 overnights – shared accommodations, all meals, beverages and snacks.
Commuter - $599
Includes tuition, lunches, dinners, beverages, snacks, and full use of the retreat facility.
Early Bird Discount for Residential Registration: $40 off if you Register by December 2!
We strongly encourage you to take advantage of the residential opportunity for full immersion in the retreat experience. But for those unable to commit to the residential format, we have a limited number of commuter slots.
Retreat Cancellation Policy
Cancellation fees vary based on the time of notification. Up until December 2nd there are full refunds minus a $50 service fee. After December 2nd a 50% refund will be made. No refunds or credits after December 30.
This retreat spans 5 days and 4 nights beginning Wednesday afternoon and concluding approximately 2 pm on Sunday.
Once registered, you'll receive an email form to fill out and return stating food preferences, accommodation requests, and other pertinent information so we can make your retreat experience the best possible.
ClearLight retreats have allowed me to access an inner spaciousness and trust in myself which has made a profound difference in my life.
– Participant at a 5-Day Retreat
Most valuable for me is to be with other seekers, to hear them, and then to be in silence. Invaluable for me is the encouragement that what we are all seeking is already here. Recognize it! It is a true privilege to be able to study with Scott and Nancy. Both are gifted and highly skilled teachers, patient, calm and the real thing.
– AS, Psychologist, 5-Day Retreat
It was excellent. I appreciate the guidance, the exercises, the discussions, the time for practice, and the care and compassion in helping us awaken in a loving way. I absolutely value the teachings on awakening and open heartedness. Best retreats ever!
– Maria F., 5-Day Retreat