Sunday Morning Silent Meditation
MARCH 1, 9:00 AM -11:30AM
APRIL 5, 9:00 AM -11:30AM
To the mind thirsting for peace and contentment, silent meditation is like drinking deeply from a mountain stream.
Sunday Morning Silent Meditations offer the opportunity to meditate for a longer period of time within the supportive context of group practice. Practicing for longer periods can allow the mind to settle more effectively than in daily practice, and settling brings experiences of peace, clarity and well-being. The full session is two hours and combines alternating periods of silent sitting and walking meditation. Participants are welcome to come for all or part of these sessions.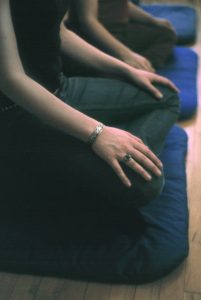 Everyone is welcome, but please note that no instruction is provided. It is meditation only.
Sunday morning sessions are conducted in silence allowing participants at all levels and with different practices to meditate together. Individual practices include mindfulness, insight meditation, loving-kindness contemplations, silent mantra meditation, resting in the Natural State of non-dual awareness, and other forms of silent meditation.
To minimize disturbing the peace of the periods of sitting meditation, please enter and exit as quietly as possible.
There is no program fee for these events, but donations are requested to support them.
Registration not required.