Sunday Morning Online Meditation
DECEMBER 13, 9:00 AM -11:30AM
JANUARY 10, 9:00 AM -11:30AM
This event will be held online via Zoom
"To the mind thirsting for peace and contentment, silent meditation is like drinking deeply from a mountain stream."    – The Dalai Lama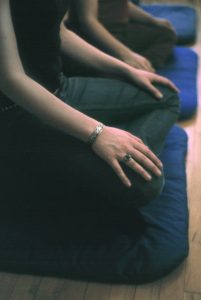 Sunday Morning Online Meditation is a chance to meditate with group support during these challenging times when we can't get together in person. The full session is two and a half hours combining alternating periods of silent sitting and walking meditation. Meditating for a longer period of time like this can help the mind settle more completely than in daily practice to bring experiences of peace, clarity and well-being. But feel free to join us for all or only a part of the session.  These sessions are free of charge, but you must register so that we can send you instructions on how to connect.
Everyone is welcome, but please note that no instruction is provided. It is silent meditation only. Participants at all levels are invited to meditate together whether your practice is mindfulness, insight meditation, loving-kindness, silent mantra, or resting in the Natural State of non-dual awareness.
To minimize disturbance, please join and exit quietly.
This event is free. Please register so we can send you connection instructions.